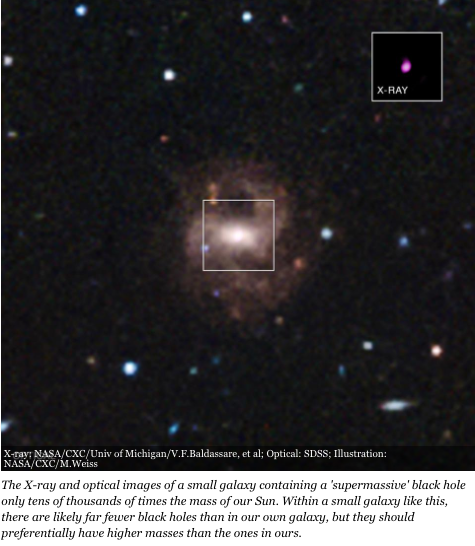 In a recent study, astrophysicist try to answer how many black holes are there in the Milky Way. There are three questions one needs to know in order to come up with an estimate for black holes in a galaxy: (i) What is the total mass of the galaxy, (ii) what the total mass in stars of the galaxy and (iii) what is the metallicity of the galaxy, i.e., what percent of the galaxy's mass is elements heavier than hydrogen and helium.
Back in the 1980s, the best evidence of the existence of black holes came from X-ray and radio emitting sources that exerted a gravitational influence that exceeded that of neutron stars, but they had no optical or infrared counterparts. Later, scientists found that the motion of stars at the galactic centre appeared to orbit a large mass, larger than four million times the mass of our Sun. Today, scientists divide black holes into two main categories: the stellar black holes with mass up to 20 times more than the mass of the Sun and the supermassive black holes, that are have masses that are more than 1 million Suns together. Theoretical and observational evidence suggest that every massive galaxy contains a supermassive black hole, including our own galaxy.
A group of astrophysicists run simulations to estimate approximately how many black holes exist in a galaxy of any size. They found that not only our galaxy is filled with hundreds of billions of stars, but it also hosts up to 100 million black holes! If the estimations of their study are correct, in the next decade we should expect to see black hole-black hole mergers where one member be as massive as 50 solar masses!!
Publication: Elbert et al. 2017
Source: Forbes