AHEAD2020 in collaboration with the Penteli's visitor center of the National Observatory of Athens organizes a summer school (in person) of Astrophysics for elementary school children under the dome of the historic telescope NEWALL in 5-6th of July. Based on creativity, games and imagination, we start our astronomical tour from our Sun and using the nearby stellar systems as a bridge we travel to the distant world of galaxies but also to the charming, invisible and enigmatic universe of X-rays.
Information and reservations at vk@noa.gr & at +30 210 – 3490022 daily 10-3pm (GR time).
PS: The program includes live solar observation and morning observation of the Moon, weather permitting.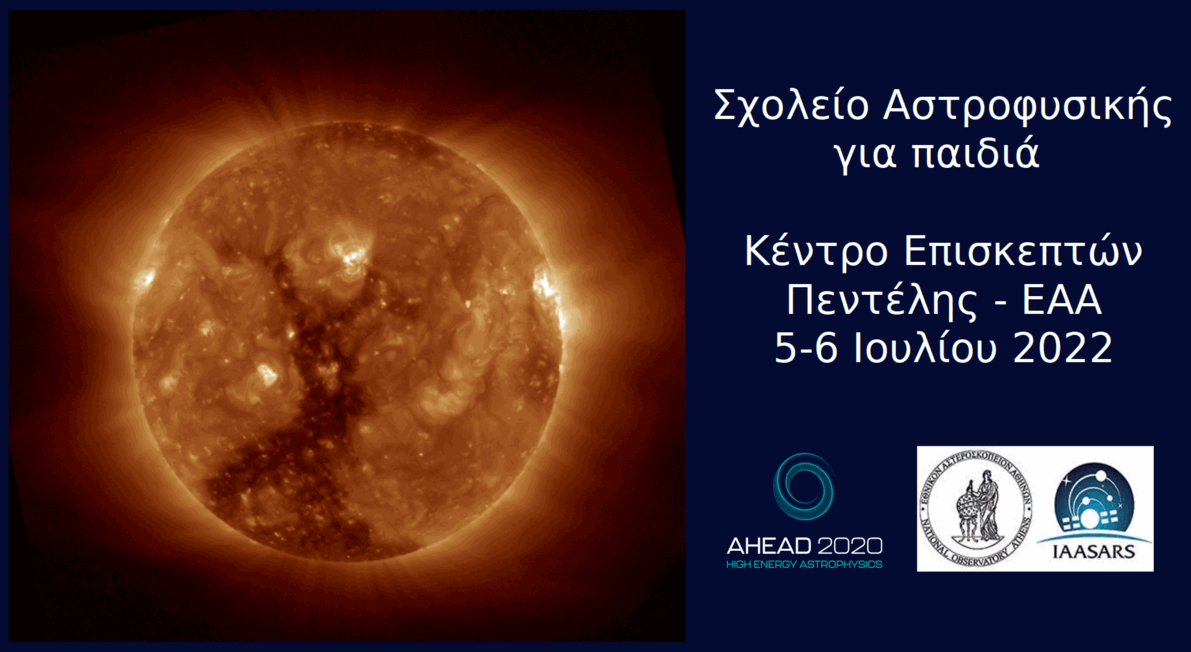 Στο πλαίσιο των δράσεων εκλαΐκευσης και διάχυσης της επιστήμης της Αστρονομίας και των συναφών επιστημών, το ΚΕΝΤΡΟ ΕΠΙΣΚΕΠΤΩΝ ΠΕΝΤΕΛΗΣ διοργανώνει ένα δια ζώσης σχολείο Αστροφυσικής για παιδιά Ε' & ΣΤ' δημοτικού κάτω από τον θόλο του ιστορικού τηλεσκοπίου NEWALL το διήμερο 5-6/7.

Με βάση την δημιουργικότητα, το παιχνίδι και την φαντασία ξεκινάμε την αστρονομική μας περιήγηση από τον Ήλιο μας και χρησιμοποιώντας τα κοντινά αστρικά συστήματα ως γέφυρα ταξιδεύουμε στον μακρινό κόσμο των γαλαξιών αλλά και στο γοητευτικό, αόρατο και αινιγματικό σύμπαν των ακτινών – Χ.

Πληροφορίες και κρατήσεις στο vk@noa.gr & στο 210 – 3490022 καθημερινές 10-3μμ.
ΥΓ: To πρόγραμμα περιλαμβάνει ζωντανή ηλιακή παρατήρηση αλλά και πρωινή παρατήρηση της Σελήνης, καιρού επιτρέποντος.