Workshop: "What drives the growth of black holes: a decade of reflection" in Reykjavik, Iceland, 26th-30th September 2022
September 26, 2022 @ 8:00 am

-

September 30, 2022 @ 5:00 pm
Workshop overview
"What drives the growth of black holes: a decade of reflection"
in Reykjavik, Iceland, 26th-30th September 2022
Massive black holes are at once exotic and yet ubiquitous, residing at the centres of massive galaxies in the local Universe. Recent years have seen remarkable advances in our understanding of how these black holes formed and grew over cosmic time, during which they are revealed as Active Galactic Nuclei (AGN). The focus of this workshop is to review our understanding of what drives the growth of black holes, to reflect on the progress made in the last decade, and to look towards expected future advances enabled by conceptual and technological improvements.
The scientific sessions of the conference will be broadly the same as our first workshop in 2010 on "What drives the growth of black holes?", allowing for a direct comparison of progress made in the last decade:
• How does the gas accrete onto black holes, from kpc to sub-pc scales?
• What properties of the host galaxies or larger-scale environment affect black-hole growth?
• What fuels the rapid growth of the most massive (and also the first) black holes?
• What impact do AGN winds/jets/outflows have on the black-hole fueling and star formation?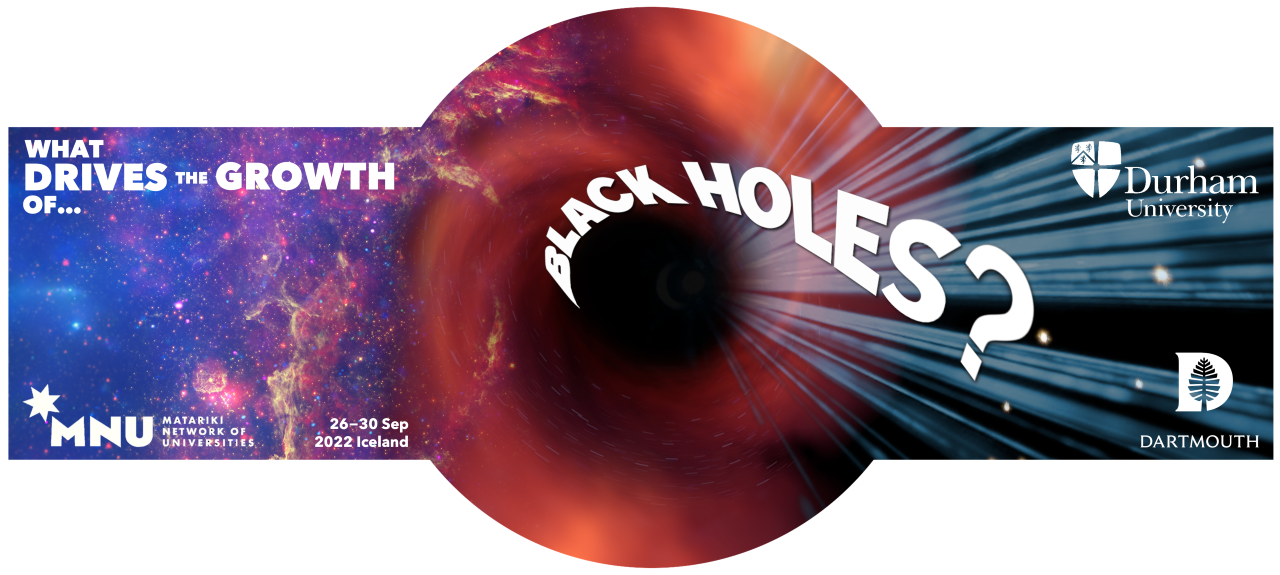 This conference is the latest in our Durham-Dartmouth black-hole series. In deference to our previous meetings it will not be held in either Dartmouth or Durham but will be hosted in the iconic Harpa conference centre in Reykjavik so we can face Eyjafjallajokull, the infamous Iceland volcano that shut down European airspace in April-May 2010. This calamitous event led to the cancellation and subsequent rescheduling of our original workshop on "What drives the growth of black holes?". Our latest conference, a celebration of the subsequent progress made over the last decade, was originally scheduled for 2020 but had to be rescheduled to 2021 and then again to 2022 due to covid19… yes nature seems to be inherently linked to our workshop series! We hope to see you in Iceland over 26th-30th September 2022 to celebrate the last decade of progress on "What drives the growth of black holes?"
Key Dates
Abstract Submission:
Open till 1 May 2022
Final Registration:
Not yet open
Workshop:
26 – 30 September 2022